NEWS: Obsidian Tongue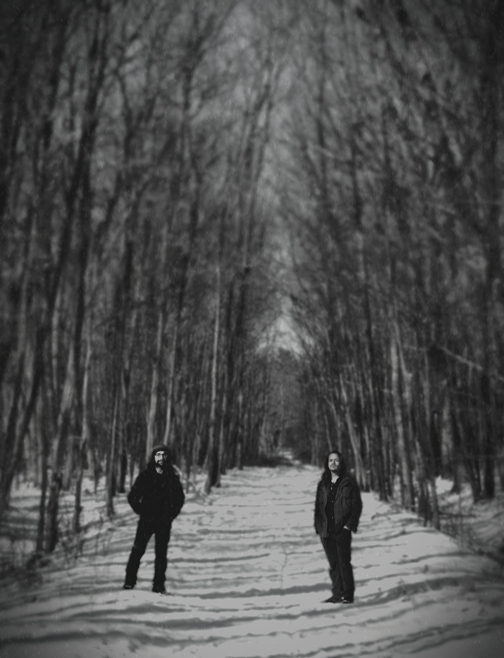 It has been some time since we announced the signing of Obsidian Tongue, but life, changes and hard work have been at the forefront of this innovative band's existence. You're all about to experience the re-awakening!
Obsidian Tongue has relocated to Portland, Maine, and with the departure of original drummer, Greg Murphy, Brendan Hayter has enlisted the supreme talents of Ray Capizzo (Falls of Rauros, Panopticon) to assume the drum throne. Ray's ability and creativity has further edged the new Obsidian Tongue material to mind blowing and progressive heights as this 2 piece has finished the material for their impending, yet untitled follow-up to the impressive "A Nest of Ravens in the Throat of Time".
Regarding the new album and material, Brendan had this to say, "We're about to start recording the third full length, which doesn't have a confirmed title at the moment but it will very soon. The new stuff is our most progressive to date – 3 of the songs are 14+ minutes long, and is a continuation of the style introduced on The Lakeside Redemption, expanding to include our most crushingly heavy and heartbreakingly melodic moments alike…emotional and epic while still remaining raw and stripped down."
Along with writing the material for what will likely be a double album, Obsidian Tongue has been busy staying in the public eye with live performances opening for the likes of Abbath, Wolves in the Throne Room and Negura Bunget. Having been named by Metal Injection as the "Best black metal band in Massachusets", Obsidian Tongue continues to grow creatively and are currently preparing for an east coast trek with their brothers in Falls of Rauros (Tour dates listed Below).
We shall be offering more information regarding the new album and merchandise as it becomes available. In the meantime, we shall leave you with a rehearsal video that demonstrates the direction and power soon to be unveiled by Obsidian Tongue and Bindrune in the months to come! Enjoy and spread the word!
Falls of Rauros/Obsidian Tongue tour!
4/13 Portland, ME – Space Gallery w/ Obsidian Tongue, Ada, Forêt Endormie
4/14 Worcester, MA – Ralph's Diner w/ Obsidian Tongue, Malleus, Legions Descend
4/15 Providence, RI – Dusk w/ Obsidian Tongue, TBA
4/16 Greenfield, MA – The Arts Block w/ Obsidian Tongue, Din, Northern Curse
4/17 Winooski, VT – The Monkey House w/ Obsidian Tongue, Sunder, Gorcrow, Dead Souls
4/18 Brooklyn, NY – Saint Vitus w/ Obsidian Tongue, Luminous Vault, Reg Bloor
4/19 Baltimore, MD – The Sidebar w/ Obsidian Tongue
4/20 North Carolina TBA
4/21 Richmond, VA – Strange Matter w/ Obsidian Tongue , Hybrid Warfare
4/23 Philadelphia, PA – The Fillmore: Decibel Metal and Beer Fest w/ Sleep, Pig Destroyer, Withered, Khemmis, Cemetery Piss