To celebrate the occasion, we are releasing Capricious Miles from the album to further introduce the coming of Panopticon's latest masterwork.
Roads to the North…
The wait is nearly at an end for the latest Panopticon Opus, Roads to the North. Following up the critically acclaimed Kentucky, Roads… is the logical evolution into pure and passionate artistic expression. With Panopticon's solid foundation of emotive black metal armed with musical influences that proudly uphold traditional Americana (folk and bluegrass) elements, Roads to the North expands and destroys with melodic death metal harmonies, increased technical proficiency and a full/professional sound that propels this material into new realms of expression for Panopticon. Savagery and gripping emotion… Sole visionary Austin Lunn's journey away from his home state has been beautifully documented on Roads to the North along with all the heartache, sorrow and triumph that followed him along the way.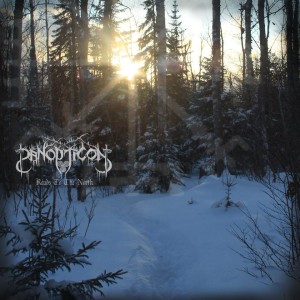 Panopticon – Roads to the North Gatefold 2LP regular edition PRE-ORDER!! $25 (Bindrune/Nordvis)
The Gatefold 2LP edition features 2 transparent blue records both with yellow opaque splatter
Pre-Order Here: http://eihwazrecordings.com/distro/index.php?main_page=product_info&cPath=2&products_id=1480
If you live overseas and want to bypass inflated shipping costs, our brethren at Nordvis are also offering pre-oders for their territory!! 
go here: http://www.nordvis.com
Tracklisting:
1.The Echoes of a Disharmonic Evensong (9:36)
2.Where Mountains pierce the sky (12:43)
3-5. The Long Road ( in 3 movements)
I. One last fire (5:56)
II. Capricious Miles (7:53)
III.The Sigh Of Summer (9:39)
6.Norwegian Nights (3:20)
7. In Silence (9:46)
8.Chase the Grain (12:14)